First aid
BASIC SCIENCE JSS2 First term
Sub-Theme: Safety
WEEK 1
First aid
Performance objectives
Students should be able to:
Define first aid

Identify contents on a first aid box

Apply first aid measures
Content
First aid
First aid treatment can be defined as the immediate and temporary care given to an accident victim or sick person before the arrival of the doctor or before taking the victim to the hospital.
First Aid Box: This is a simple box made of wood or plastic. The box usually contains the necessary materials needed to carry out first aid. The size is usually 30 x 25 x40cm.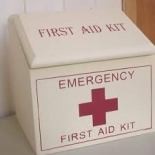 First Aid Box
Reasons for First Aid
First aid.... View More
Subscribe now to gain full access to this lesson note
Take Me There
Click here to gain access to the full notes.